Traditionally, New Zealand homes have not been built fully weathertight. Even so, homes built before the 1990s were usually able to experience a small degree of leakage without suffering significant loss of durability. A number of factors made even the smallest amount of leakage risky in new residential construction. These included the introduction of untreated timber framing in the mid 1990s and the inappropriate use of new cladding systems on 'Mediterranean' or other complex architectural design styles from the late 1980s. Poor workmanship, inadequate design and lax council inspections also contributed. In short, bad designs, inappropriate materials and shoddy construction created a large number of homes that look sound but are at risk of leaking and major degradation.
It's past the 10 year cut-off…
WHAT ARE YOUR OPTIONS?
CHECK WITH YOUR LAWYER FIRST,
The CCC, or code compliance certificate, may have been issued some years after your building was completed, meaning Council could still be liable.
There could be warranty provisions in the sale and purchase agreement that give you legal recourse.
The vendor, or their agent, may have misrepresented the condition of the property to you.
If and once you've checked the legal recourse, or decided not to bother then:
You'll still need a report on the actual condition of your property.
From this you can make informed decisions on whether to do nothing, sell as-is, reclad, or to demolish & rebuild – either now or in the future.
Recladding is still cost-effective, but before you start, you need to have undertaken enough investigation to be satisfied the project won't balloon beyond your budget once underway.
Cutting costs or being impatient at the beginning tends to lead to poor outcomes.
However, all building projects carry risk – the more unknowns the greater the risk. So for the faint-hearted and those on restricted budgets, it may be better to sell as-is.
Risk House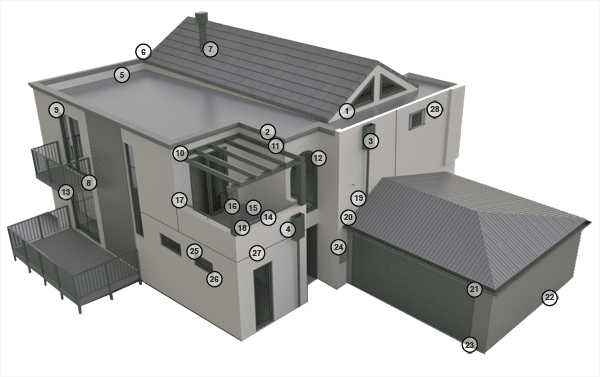 Click on the heading for before and after pictures
1. Sloping head flashing
2. Roof parapet
3. Roof rainhead
4. Deck outlet
5. Cladding touching flashing
6. Parapet capping
7. Roof penetration
8. Deck handrail fixings
9. Door head flashing
10. Pergola fixings
11. Fascia plastered in
12. Curved head flashing
13. Handrail penetration
14. Flat top balustrade
15. Wall to deck clearance
16. Wall to deck junction
17. Balustrade to wall junction
18. Post penetration
19. Downpipe onto roof
20. Apron flashing
21. Garage door head flashing
22. Cladding and framing close to a
23. Cladding close to paving at garage door
24. Meter box
25. Window head flashing
26. Sill
27. Horizontal control joint
28. Louvre vent
The Remediation Process:
What is Involved?
The full remediation of a leaky building is effectively a three-stage process covering investigation and reporting, design, and administration of the construction contract. Prendos design and building surveying professionals provide comprehensive and efficient solutions to leaky homes, from initial diagnosis through to project completion, and including expert evidence for legal claims if required.
Investigation and Reporting
The diagnosis of a leaky building is usually determined by a two stage investigation: an Initial Investigation and a follow-up Detailed Investigation.
An Initial Investigation is a non-invasive investigative procedure that involves a building surveyor meeting the homeowner on-site, to carry out a visual inspection of a building, discuss the history and homeowner's concerns regarding the building, and to determine how a detailed investigation is best carried out.
Typically, as the result of an Initial Investigation, the building surveyor will produce a short report. However, if the homeowner is already aware of significant problems it may be more cost effective to proceed directly to a Detailed Investigation. A short initial visit may still be necessary to determine safe ways to gain access to the exterior.
A Detailed Investigation helps determine the extent of defects and other issues that may be affecting a building. The investigation typically involves destructive tests where small holes are drilled in the external building envelope to detect the presence of moisture behind the cladding. If elevated levels of moisture are detected, or there are other concerns, small areas (300mm x 300mm) of cladding may be removed, for example, and samples taken for analysis of decay and timber treatment.
Following the investigation a report is provided with a recommended course of action. The report is typically used as the basis for the remediation design. If it is being used to support legal action then the report will need to be more comprehensive.
Design
The building surveyor works closely with the client and our architect to develop a design brief that incorporates the necessary technical solutions to weathertightness issues, as well as taking into account building aesthetics and any additional work that may need to be undertaken. Once a brief is agreed concept plans are drafted and the building surveyor generates a scope of works. A quantity surveyor then prepares costings to assist the decision making process.
If a valuation is required to assist with obtaining bank funding, our property valuers can provide an anticipated market value based on the design concept.
On approval of the concept plans full working drawings are prepared. If the client is using the FAP scheme a FAP Repair and Payment Plan can also be prepared. Completed documents are submitted to the Council for building consent and tender documents are generated and supplied to interested building contractors.
Contact Administration
On receipt of tenders from building contractors, a quantity surveyor undertakes a tender analysis and recommendations are presented to the client for acceptance. Construction contracts between the client and the builder are prepared with the building surveyor typically named as the Engineer to the Contract.
The building surveyor typically administers the remediation project. Site visits are undertaken regularly to observe the works and to deal with any unforeseen construction issues that may arise. The building surveyor also identifies any in-situ decayed framing needing replacement and collects any additional evidence of building failure for possible legal action. Regular site meetings are held with the client and builder. The building surveyor processes progress claims from the builder (typically monthly) to certify they are correct and – if the client is using the FAP scheme – assists with the compiling of milestone payments.
Final claims from the builder are processed and payment retentions are managed. A 'Defects Liability Period' commences at the practical completion of the project, whereby a portion of the builders payments are retained for a period to cover any minor works (such as paint touch ups) that may become apparent. Producer statements and trade guarantees are provided to the Council and client.
Legal Recourse
Many owners seek legal redress through either litigation or the Weathertight Homes Resolution Service (WHRS) from parties deemed to have contributed to their loss. Certain laws limit time periods for parties to be held accountable; it is critical that clients seek legal advice as early as possible to determine if limitation periods curtail any redress.