By Ross Forsyth, Registered Valuer
Over this past year, residential real estate in Tauranga has seen a significant uplift in activity and values. A good degree of the activity is engendered by home purchasers and investors from Auckland in conjunction with a pent-up local market that has taken advantage of the life in the market to sell and move.
From December 2014 through to October 2016 the growth in property values accelerated. The graph below indicates the upward trend in values over this period and interestingly while not at the same value levels, the rate of growth for Tauranga City was greater than that of Auckland.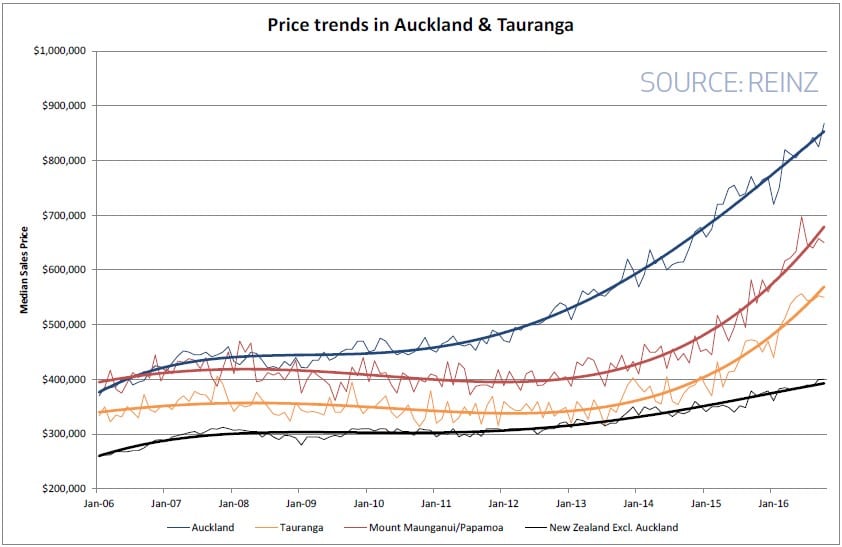 This market upturn was verified by selling agencies who all reported a near "frantic" market that saw sales prices surge ahead – with each new sale setting a new benchmark.This trend has been echoed by 'the days on market' for properties, where this indicator of key market activity showed as the number of days on the market fell, values rose.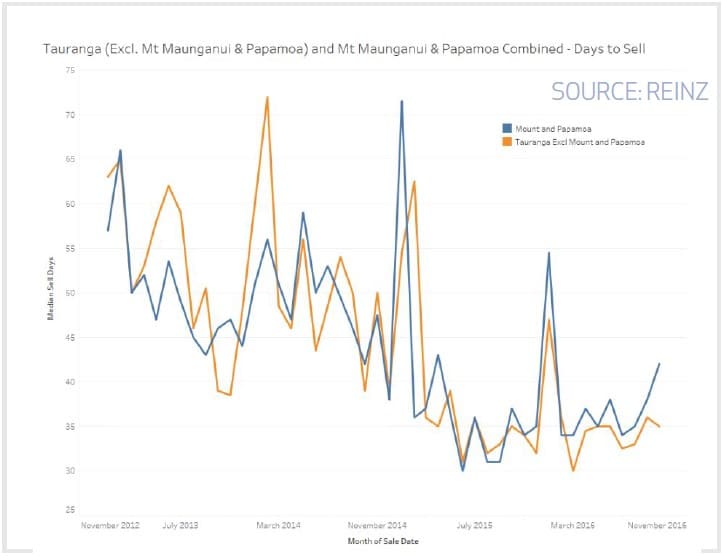 The latest statistics from Core Logic saw a year on year growth in value of 27% from October 2015 to October 2016,and an average sale price of $651,725.
However, recent signs are that perhaps the market has taken a downturn. Estate agents are reporting lower success rates at auction, some 'disappointed vendors' and a tendency for property having to go through a more conventional sales process, e.g. post auction conditional sales contracts.
It would seem that the measures introduced by the Reserve Bank in late July are having a dampening effect on market activity – not just in Tauranga – but across the nation.
It could be that purchasers are now more aware of a potential slowdown in activity with even the possibility of values falling,and are therefore being more wary of jumping into what has been a very 'hot market'.
In addition, New Zealand is now coming to grips with the new American Presidency and the potential outcomes that might arise from some very unclear policy directions espoused during the election. The outcome of such policies (whether they come fully into effect or not!) are certainly weighing on the minds of decision makers.
It is quite possible that the costs of finance may well rise as a direct consequence of these unsettled times. Should this occur, it could impact significantly upon both vendors and purchasers, and indeed some of this current slow down may well be attributed to this uncertain picture going forward.
As to the future? In our experience predicting the direction of the market over the Christmas/Summer vacation period is extremely difficult, as sales activity and data is more difficult to gather. But, if all the above slowly rolls forward, we may have a more stable and predictable real estate market going into the New Year.
What would happen should all the negatives and worst fears come together speedily? Then the future direction has the potential to be bleak. Softly, softly could well be the mantra for the next 2-3 months!