What do you do when your construction project goes off track? Prendos' Building Surveyor Qusain Khan looks at how a project can reach the point of needing to be 'rescued', and what can be done to successfully bring it back in line.
A construction project typically refers to the organised process of constructing, renovating or refurbishing a building or infrastructure. A project can be defined as a series of tasks, which when carried out in the correct order will lead to the completion of the project.[1] However, as Qusain explains, achieving this successfully requires a great deal of coordination.
"Whether the asset being built, modified, or refurbished is a small residential dwelling, a multi-million-dollar shopping mall or a commercial building in the heart of the CBD, construction projects are highly structured, involve many people and have a lot of moving parts – so they must be precisely coordinated in order to reach a successful outcome."[2]
"Like many other disciplined projects, construction projects have phases – from planning and design to scheduling the build itself – and each of these are multi-faceted and complicated. They require a methodical, coordinated approach mixed with an element of flexibility and reactive thinking and decision making[3], and that's where engaging an experienced professional can make all the difference."
As strategic property consultants, Prendos offers ongoing relevant and reasoned advice for technical due diligence, client representation, defective construction review and observation, design peer review and expert witness services – to name a few. And, with qualified building surveyors who are also experienced project managers, they're also perfectly placed to recover a project should trouble arise.
"When undertaking such complex construction projects, the possibility of errors and mismanagement occurring rises substantially," Qusain explains. "When mistakes happen, experts are often called in to rescue and recover the project. There are many reasons it may have reached this point, including stakeholder disengagement, resource constraints, excessive delays, costs spiralling beyond contingency allowances or quality issues. But, whatever the reason, it's useful to have a process in place to assess whether a rescue is wise, or even possible, and to proceed accordingly."[4]
After years of market experience in both New Zealand and the United Kingdom, Qusain has seen and administered first-hand what's required to rescue and recover a troubled project. And, while a recent article published by the Project Management Institute indicated there is no clear definition to what constitutes a troubled project[5], Qusain says there are some common themes.
"In real world terms, each project is specific and, as such, the criteria by which the project will be defined as troubled will also be unique. However, there are some common issues which have the potential to de-rail a project, and these themes play an intrinsic role in requiring a project to be rescued and recovered. Some of the most frequent issues I've encountered include low team morale, consistently missed milestones, incomplete design documentation, high defect rates, defensive attitudes and lack of trust between those involved, unresolved issues and loss of stakeholder interest."
Qusain says it's important to remember that these themes should be considered as alerts to deeper problems; they do not necessarily equal the source of the problem.
"When reviewing a project for rescue or recovery action, it's important to recognise the difference between project troubles and project risk. Risk is an uncertain event or condition that, if it occurs, can have a positive or negative effect on the project objective. Trouble is a certain event that has either already occurred or will inevitably occur. Trouble always has a negative effect on at least one project objective.
"When a risk event does occur, it can potentially cause a project to become troubled. This is especially true where risks are unplanned, unmanaged or simply unknown. When reviewing a troubled project, it becomes apparent that a single or sometimes a collection of triggering events have led to the project being deemed as troubled[6]. The 'trigger event' is more than just another symptom, it is the final event that directly results in the official declaration of trouble and initiates action."
Some of the Most Common Triggers Found in Troubled Construction Projects Are:
• Team morale is negatively impacting the performance of the project,
• Project is trending 30% or more over estimated budget and/or estimated deadline,
• Project can stay within acceptable cost and time tolerances only by reducing quality to a point where value and integrity of the deliverable are reduced to an unacceptable level,
• Project completion date cannot be estimated,
• Project goals and constraints are mutually exclusive,
• Requirements are continually changing,
• Dysfunctional communication exists.
What Next? How to Rescue a Project
Once a project has been identified as troubled, the rescue process can be initiated. It is paramount that this process is fully understood by the existing project manager, rescue project manager, stakeholders and wider contractor leadership team.
"It is vitally important to ensure the rescue project activities align with the original definition and drivers of the project," says Qusain. "The rescue process should have clearly defined start and end dates. It should create unique results and get progressively more detailed as the project is better understood and its recovery phases are developed and administered – ensuring clear objectives and deliverables."[7]
Although each rescue and recovery process is unique, the below flow chart defines the staged approach typically taken by a Rescue Project Manager[8]: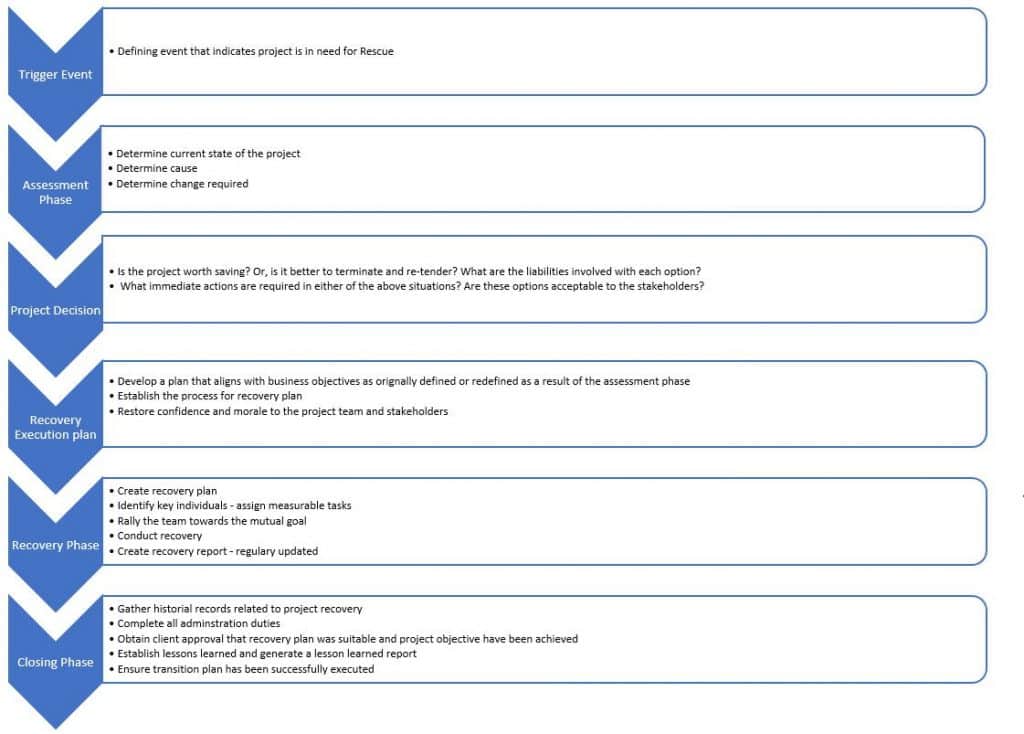 In the construction industry, the need to rescue and recover a project can be faced by any team in any organisation. That's why it's important that when a project is initiated, a comprehensive PEP (Project Execution Plan) is produced and regularly monitored and updated. It's also imperative to define success at an early stage and ensure the interpretation of what this means is universal between all stakeholders, consultant and contractor teams.
When trouble does arise, Qusain says identifying it early is crucial.
"If issues are identified at their initial stages and an appropriate rescue plan is initiated, you have a far greater chance of successful resolution. Unfortunately, given the complexity of construction projects and the consequential impact of the works on proposed or existing building users, situations very rarely 'sort themselves out'. Avoidance is a poor strategy, and one to be avoided!
"The best plan is to have a well-defined methodology in place for determining the sources of trouble, then tackle any potential issues head-on. By using the right rescue and recovery team, you'll be able to create plans for recovery and/or termination, execute these with meticulously detailed monitoring, and ideally nurse the project back to a healthy state."
At the end of the day, Qusain says managing a construction project can be a complex and stressful task – one best overseen by a professional project manager/building surveyor.
"Prendos has successfully managed many large remediation, construction and refurbishment projects, thanks to our multi-disciplinary approach and our combination of project management and technical know-how. We've also had to step in and get projects back on track when they go wrong. The greatest advice I can give is to engage a professional from the start and put the right plans in place. The best way to control the future of any project is by predicting not only its success, but its potential failure and, as such, creating a strategy for recovery at an early stage."
---
If you'd like to get in touch with us about managing your next construction project, or you need advice on getting your project back on track, give us a call on 0800 PRENDOS or email [email protected].
---
Ten Steps to Follow if a Project Has Been Identified as 'Requiring Rescue':
Define the trigger event and assess the project
If deemed necessary issue a 'stop work order'
Open up communication with all stake holders and outline common objective and end goals
Set boundaries by defining original failure, outline the cost and time investment required to rescue, ensure engagement and approval from stakeholders
Assess the risks
Re-engage key stakeholders
Determine the process to recover the project
Confirm responsibilities
Reset expectations
Agree tangible milestones and quality descriptors
---
[1] Construction project – Designing Buildings Wiki
[2-3] Construction Project Management: The Ultimate Guide (projectmanager.com)
[4] https://www.gartner.com/smarterwithgartner/how-to-rescue-a-project-in-10-steps/
[5-8] https://www.pmi.org/learning/library/project-failure-recovery-positive-outcome-6550